Well I am sure you guys have some stories of your own but me and my family had a great week. My father started out by killing a nice heavy horned buck Saturday evening. He saw this buck in the morning and it was a bit far for him to rush a shot. The doe walked out and walked right back in with him on her tail. Then they stood in the edge for 10 minutes before she led him away. My dad was sure they would make and appearance in the evening so he was there at 12 noon waiting. Well at around 4:45 he slipped up and followed her right to him 70 yards. Dad let the old H&R bark and the barnes expander did its work. He was so happy he gave back his vacation and went back to work for the week *lol*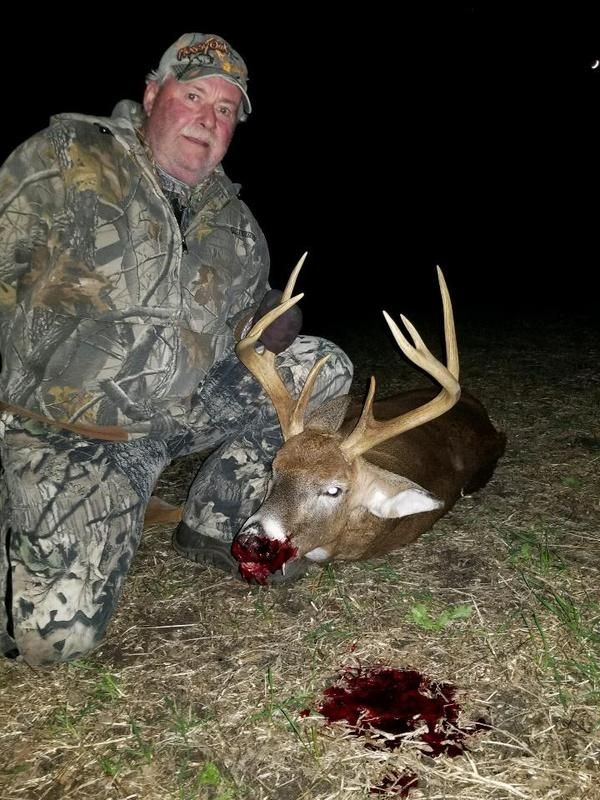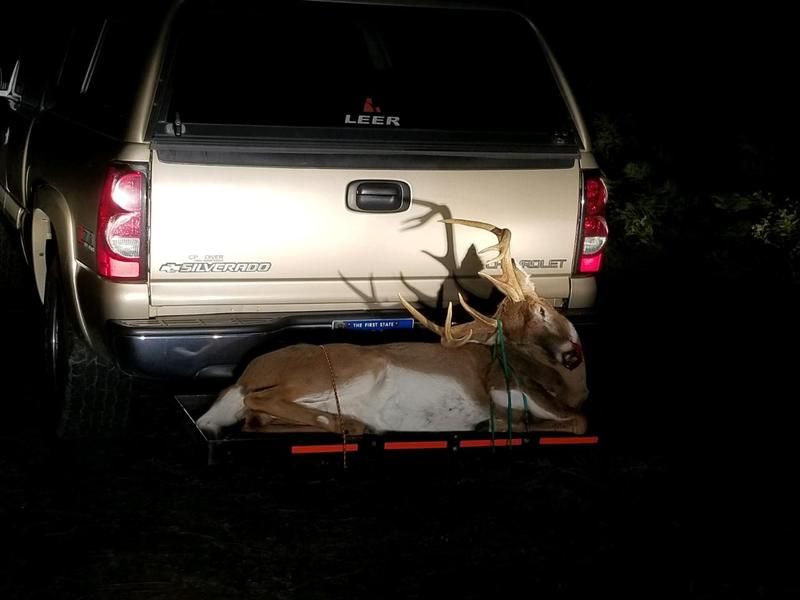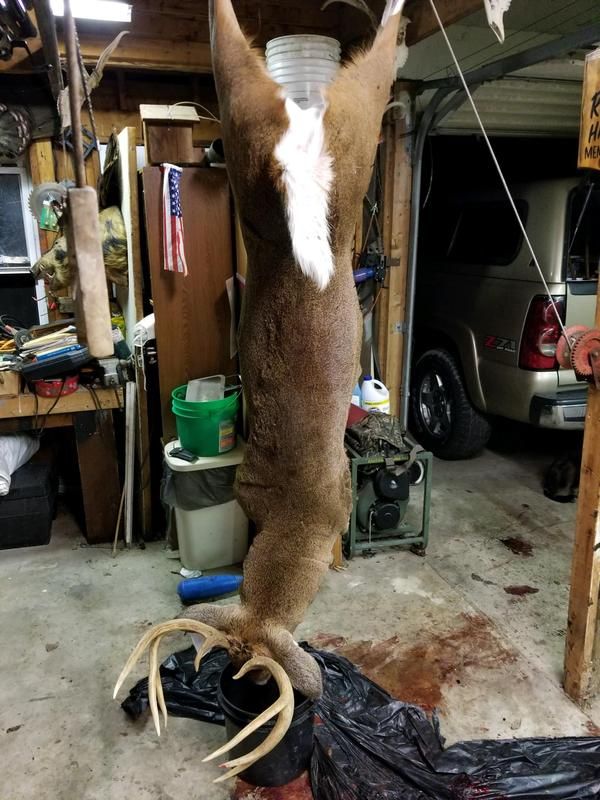 I had a great encounter a few days later with my son. I had and awesome buck come out but he was a bit far. I ranged him at 169 yards. I put the crosshairs high and squeezed. The buck dropped like a ton of bricks... My son and I started our celebration and high fives... Then out of the corner of my eye I saw movement. He was back up and headed towards the woods edge. I couldn't get reloaded in time. It started to rain and we couldn't find anything but his kick ups and where he was laying. Not even a drop of blood.  Our search the following morning came up with the same results. I was bummed but I figured the hit must have been way high and not fatal.
A couple days later I was on the same dirt hill and I got down before the rain got to bad since I had a good walk back to the truck. I didn't want to get soaked lol On my way I saw a bunch of teal headed towards our pond on the lease so I was videoing them. As soon as I was about to send the video I heard a stick break and some crashing. Then grunting. all of the sudden a big doe ran out of the thicket with a spike behind her. I decided to shoot the doe. Well as they passed at 15 yards she was a gonner for sure. *lol* I am pretty sure that would have been the case if I hadn't left my scope on 12 power *lol*  Shortly after I heard a deep grunt and deer running. Here comes a buck I knew well. The big 7...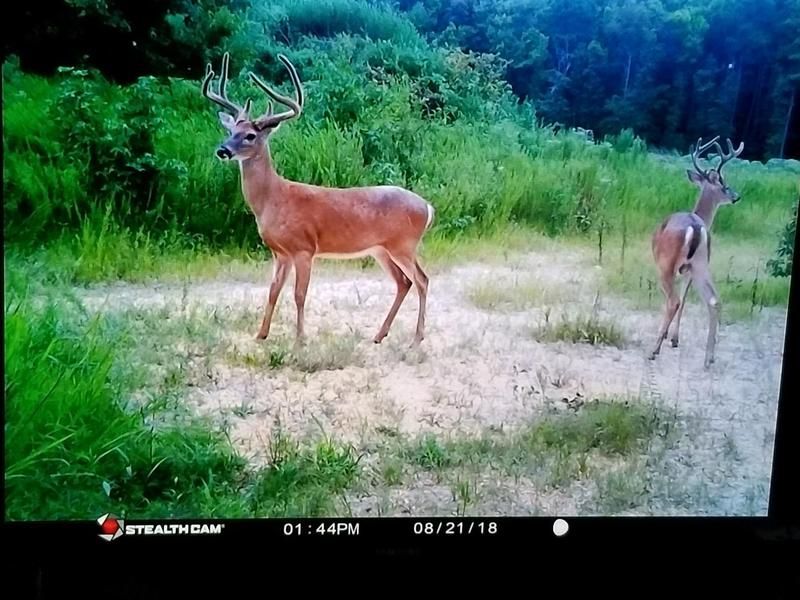 I shot when he passed at 40 yards and he ran right to me. I reloaded and dropped him in a pile. Well to my surprise it wasn't the big 7. I guess it was his little brother. The big 7 is a 20 inch wide buck and this one is 16. lol His left side is identical. Oh well it was still a great morning and I was very happy.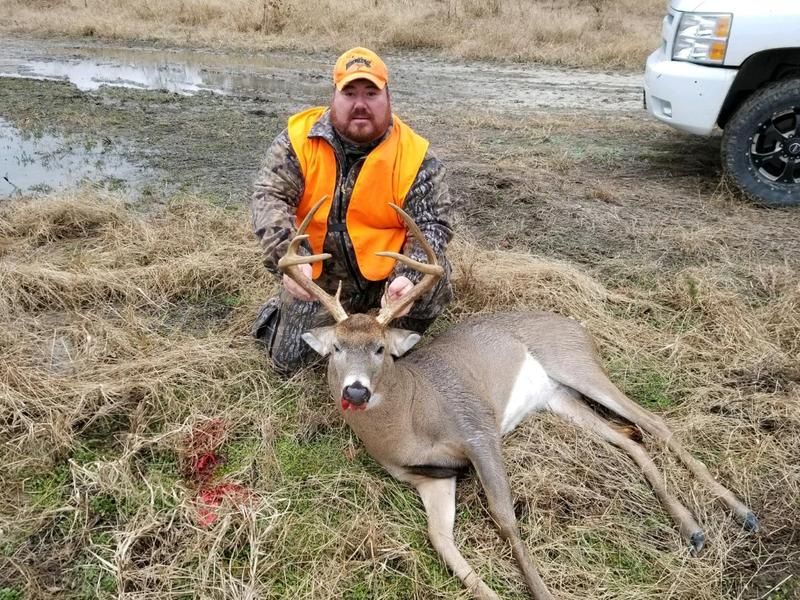 I hunted every morning and evening after that. On the last saturday I was in my box stand with my son when we saw a very nice buck come out. He was chansing a doe and he went right back in as fast as he appeared. I told anthony he might come back out and cross the field like they do so often at this spot. Sure enough not 30 minutes had went by this is the pic I took and sent to my buddy telling him here he comes!!!
The buck crossed the field and stayed 180 yards from me. I decided to take a shot. Teh gun cracked and he ran. I thought I heard it hit him but he didnt act hit. He ran a good 75 yards and stopped. I took another shot and this time I could tell I didnt miss this time. He again ran and stopped. I ranged him again and he was 185 yards. I took the shot and he took 4 steps and went down. What and awesome hunt with my little buddy.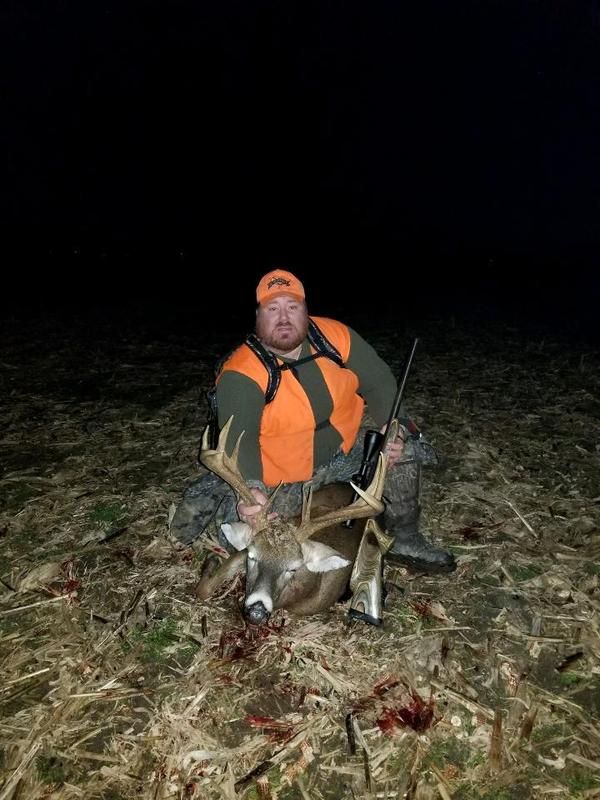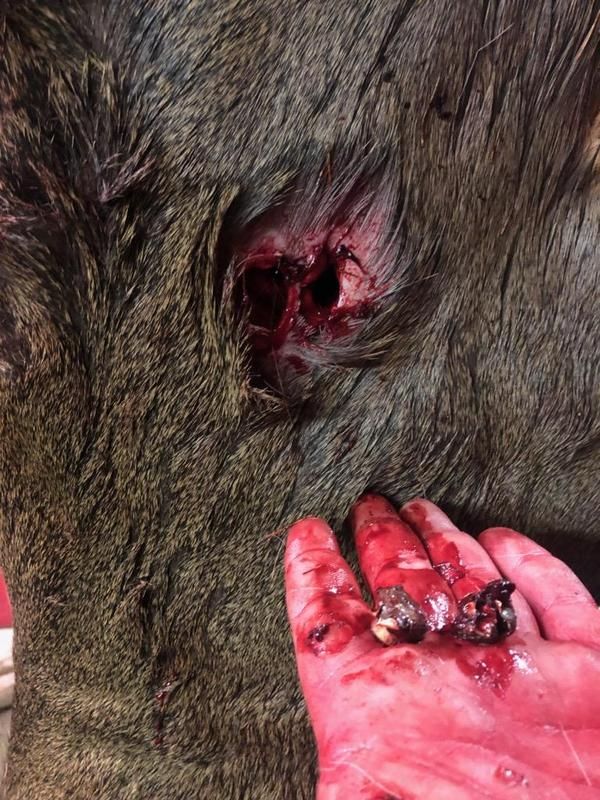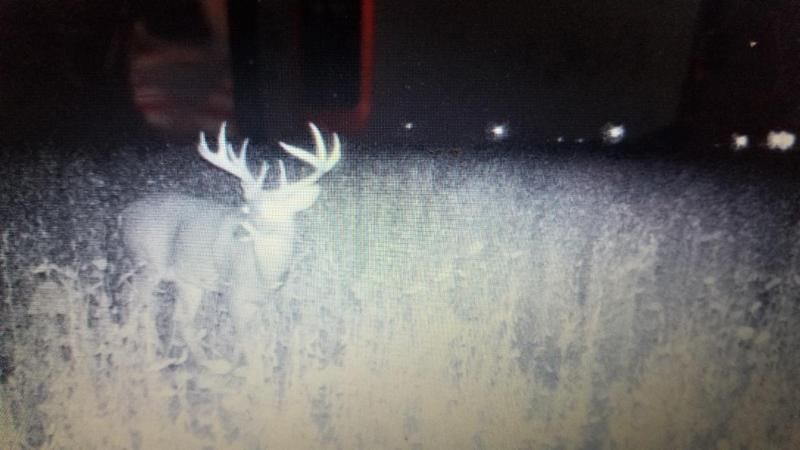 He was a 20 inch wide 11 point with great mass... I couldnt have been more happy to share this with my son.
On the last evening my son wanted to shoot a doe bad so we went to a friends farm. My came along as well since he has never watched my son kill a deer yet. We had 11 doe's all over us in no time. All of the sudden here comes a really nice 6 point. I messaged my buddy and asked if we had the green light. He had already passed on the buck and asked that we do the same. Anyway we watched him walk by with both my dads second buck tag and my sons burning a hole in their pocket as the 19 inch wide 6 point with 10 inch g2's walked away lol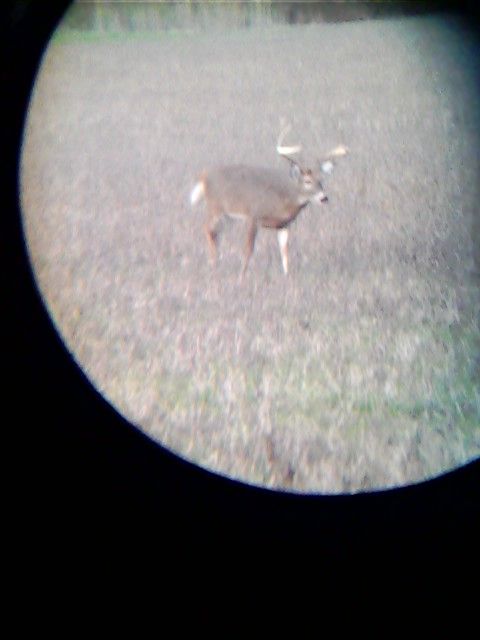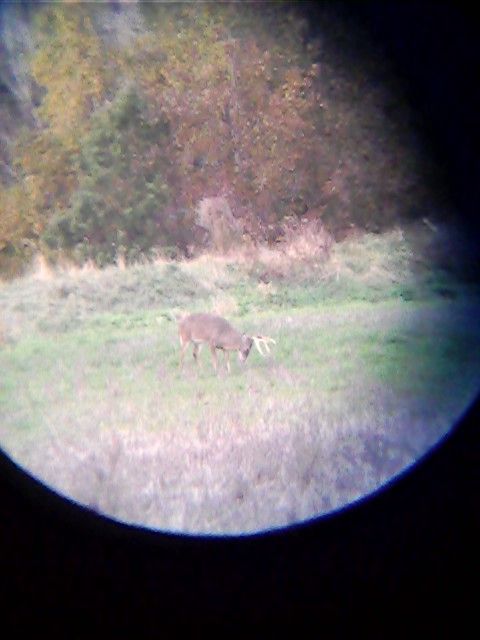 We quickly turned our attention to a big doe and had my son ready his muzzleloader... The shot was 80 yards and he made short work of her. She fell right in a pile and we celabrated as a family with 3 generations in the blind...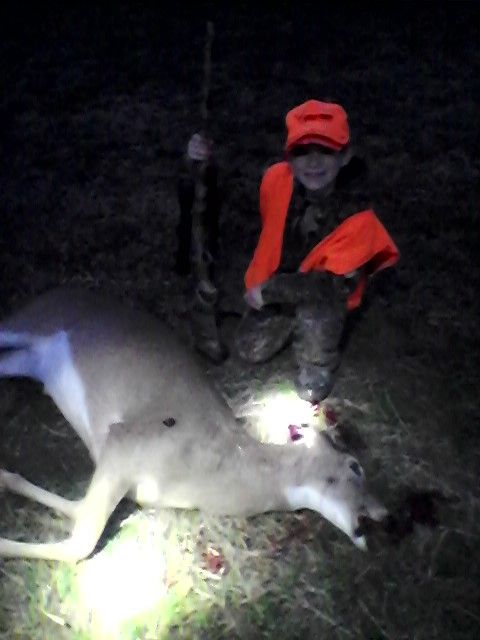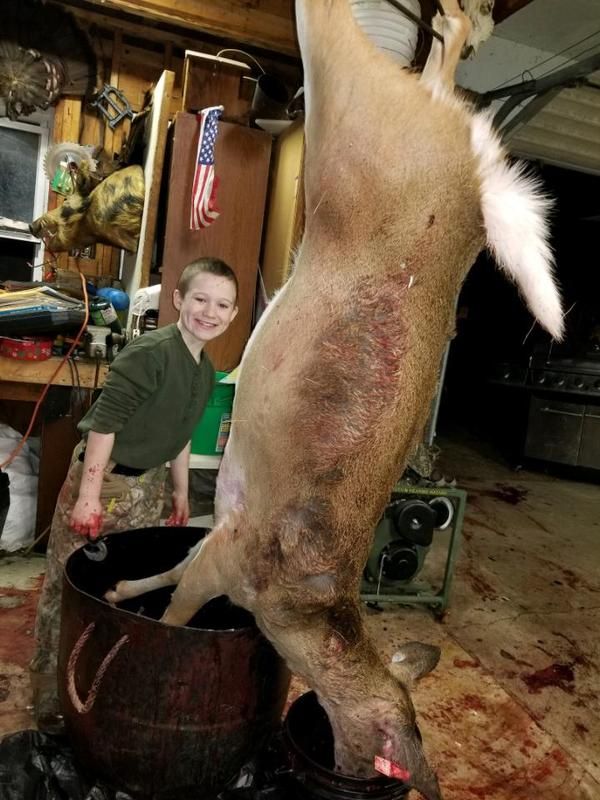 ​​​​​​​What a great week we had... I feel truly blessed to have the places to hunt and the opportunities I have. I couldnt do it all without the support of my family and loving wife. She puts up with more than I could lol
y buck
Posts: 129
Joined: Wed Feb 03, 2016 1:43 am
Location: Lewes delaware
---
what a deer season you are in the middle of Jeff . thanks so much for sharing more of it with our members
Keep the tradition alive. Take a youngster hunting or fishing!
Droptine
Posts: 5205
Joined: Thu Aug 23, 2012 9:38 am
Location: Washington Crossing, pennsylvania
---
Congratulations. Those are some amazing deer.
My biggest fear is that when I die my wife will sell my guns and fishing rods for what I told her I paid for them.
6 pointer
Posts: 539
Joined: Fri Apr 04, 2014 8:05 am
Location: Somers Point, NJ
---
That's awesome what a great family week you had.
Nice asking friend and passing on that 6, that had to be tough and looks like that is all he will be.

Congrats to you , son and dad!!
A country boy WILL survive! Country living isn't a way of life..it's the ONLY way to live life!!

Pro Staff Covert Trail Cameras
http://covertscoutingcameras.com/products/cameras/
President Tri-County Longbeards
http://www.christianbowhunters.org/
Droptine
Posts: 6014
Joined: Thu Aug 23, 2012 1:02 pm
Location: Pittsgrove, South Jersey
---
Great family hunt! They are some awesome bucks!
Droptine
Posts: 3424
Joined: Thu Oct 04, 2012 7:43 pm
Location: Philadelphia
---
---
Return to Local Harvests & Reports
Who is online
Users browsing this forum: No registered users and 1 guest