Well as many of you already know I eat, sleep and breath deer hunting.....  Well as usual I had my cameras out by the second week of July in hopes to find a velvet bruiser. I did have a very successful first card pull on one of my farms in particular. They weren't the biggest bucks I had on camera that pull. I actually had bigger on my other farm but one of them in particular caught my eye...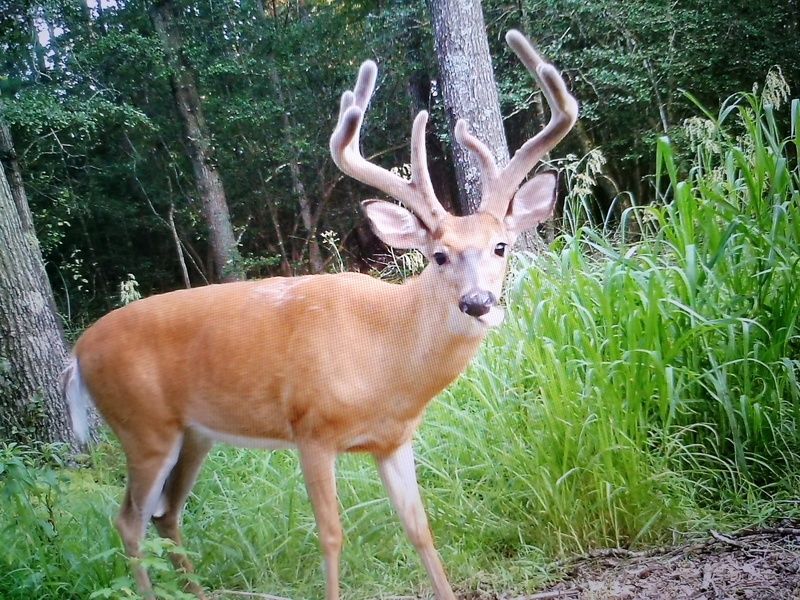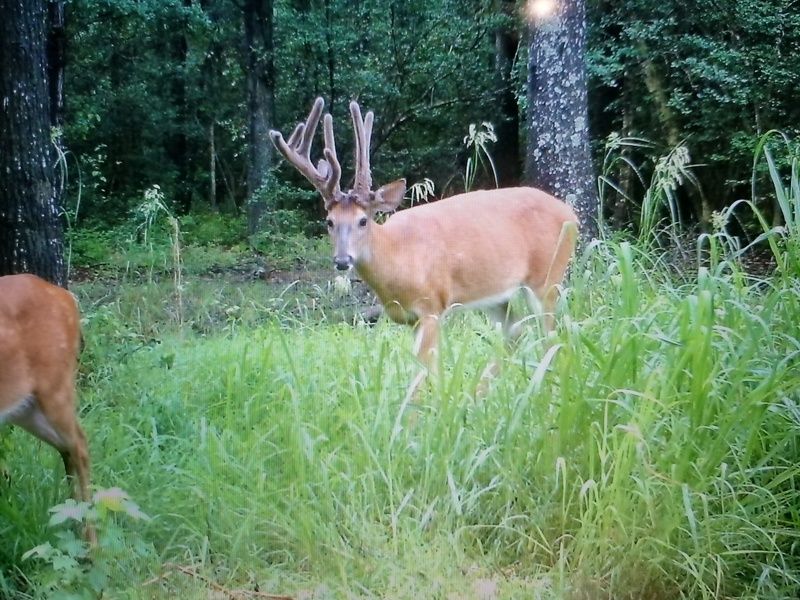 The buck was a crazy non typical and he had my attention. I knew he wasnt a huge deer by any means but he had character and I loved it. After sharing the pics with a few people and I believe on here I was contacted by a few of the guys that hunt around me. One of them had pics of the buck this year as well. This didn't exact surprise me since it is very common for us to share the same deer year after year since the farms are right across the street from one another. Here are a few of the pics he sent me.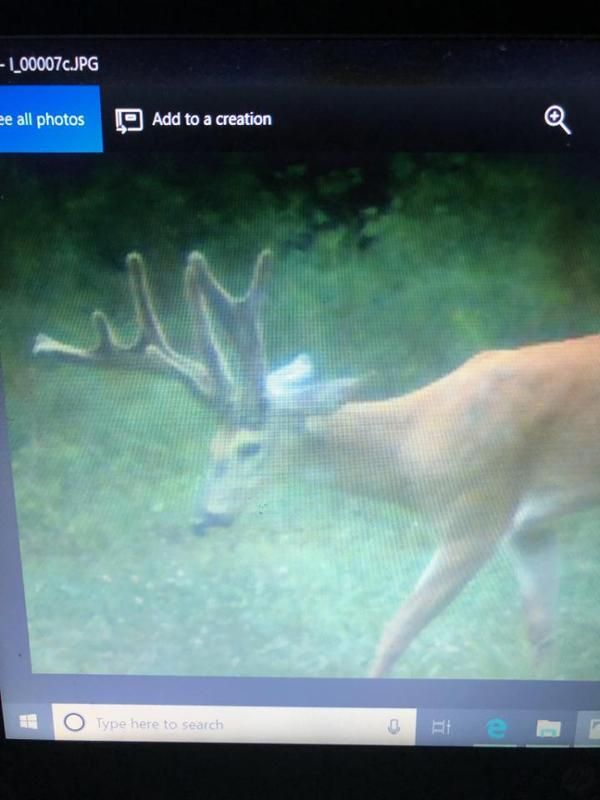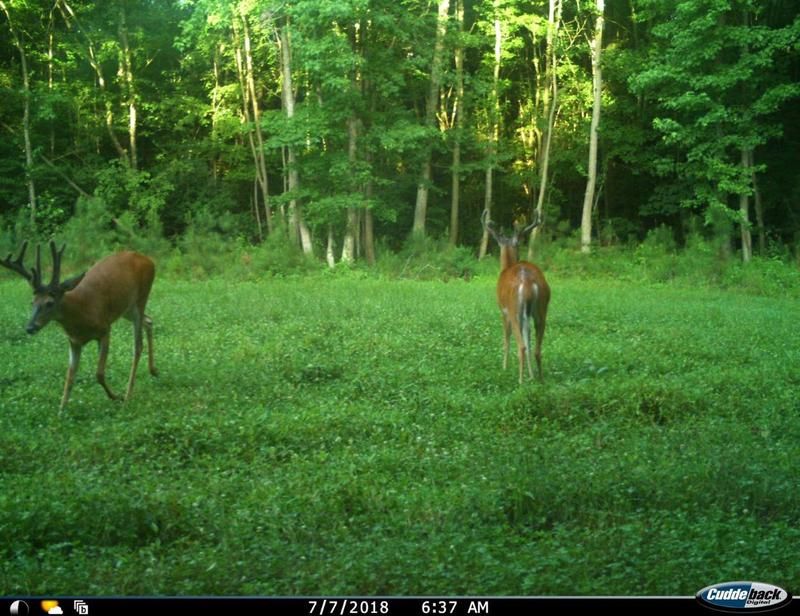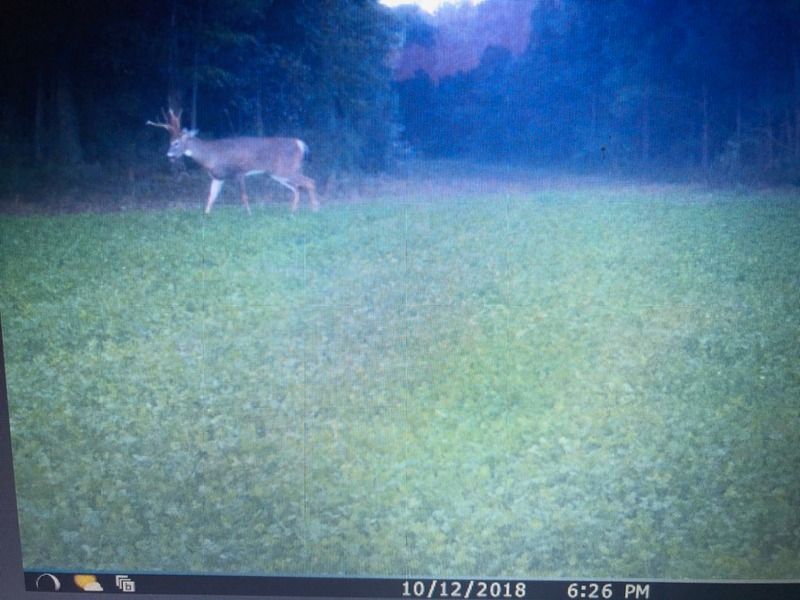 He had actually shot a nice buck last January and couldn't find him and we had thought it was him.'
The other hunter that had contacted me sent me these pics that he believed were the same deer the previous year. To me there is no doubt in my mind after looking at these pics it wasn't the deer the guy had shot but this same buck the other guy had on camera previously.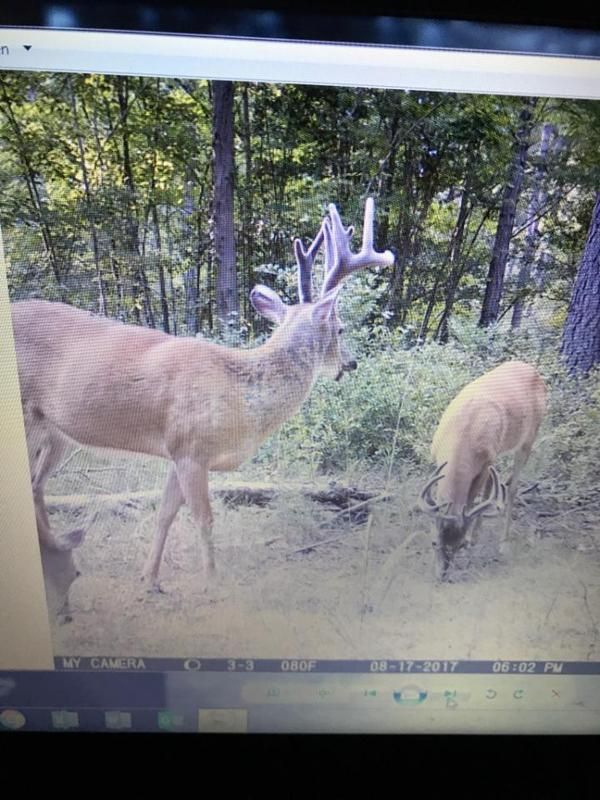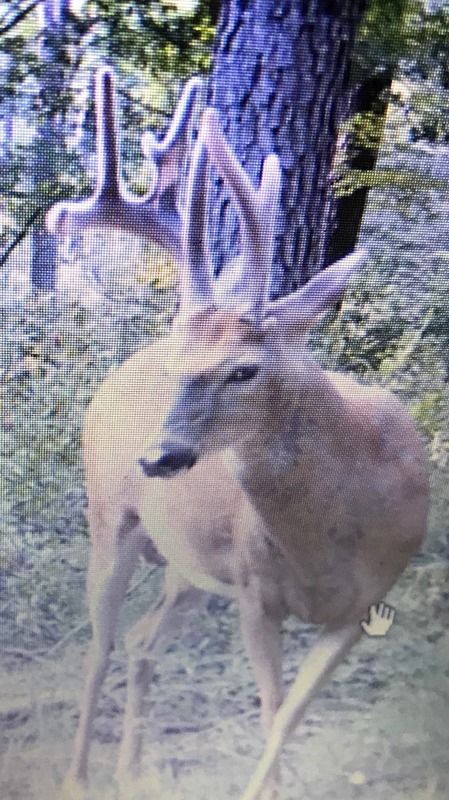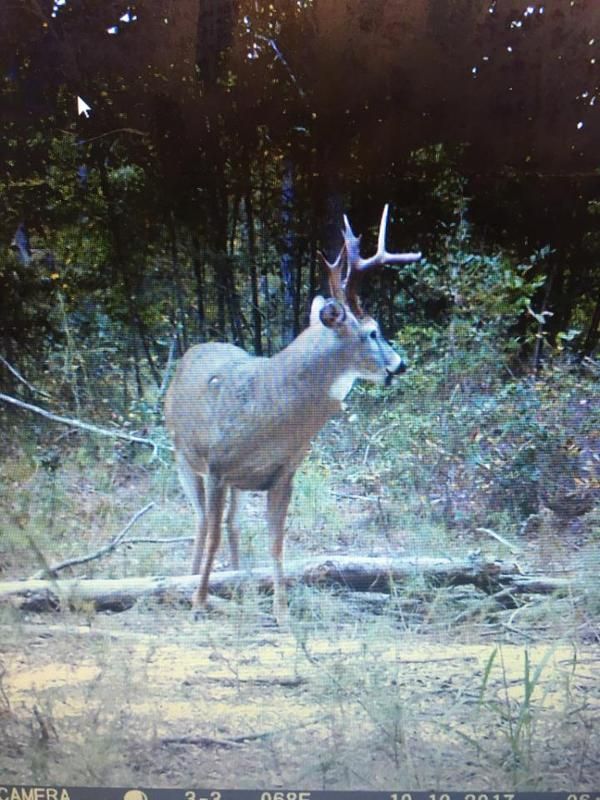 By this time I hadn't had many more pics of him... The deer had actually stopped eating my corn and went to the acorns. But I wanted to look at him with my eyes not the trail camera... My son wanted him BAD!!!! He wouldn't stop talking about him.
We bow hunted every Friday and Saturday weeks on end and never got a look at him. Now muzzle loader was on our door step and it was yet again time to check trail cameras. Well wouldn't you know it... There he was.... Me and a buddy had already nicknamed him ' SHORT BUS " *lol*  We only had 1 more pic of him but it was enough to keep the flame lit!!!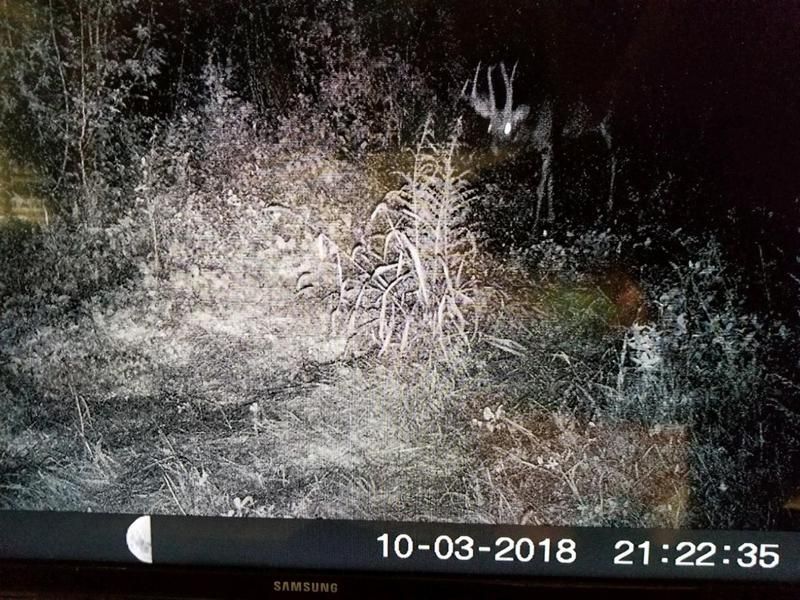 I got up a little late and went to a closer farm and killed a doe. My son was ready to leave for the bus when I got home... He made me promise we would go that afternoon. The evening hunt was a great night... Bucks chasing doe's and a total of 19 deer were seen. The following night it was just the same. We saw 15 but the good bucks didn't show.  We wouldn't be able to hunt again until the following weekend. I was waiting at the bus stop with his and my daughters hunting gear in the truck Friday evening....  Once again the deer didn't disappoint... We saw 14 deer all small bucks and doe's. My son Anthony was getting and itchy trigger finger. We tried to get my daughter on a deer but it didn't work out since the young bucks wouldn't let the doe's sit still.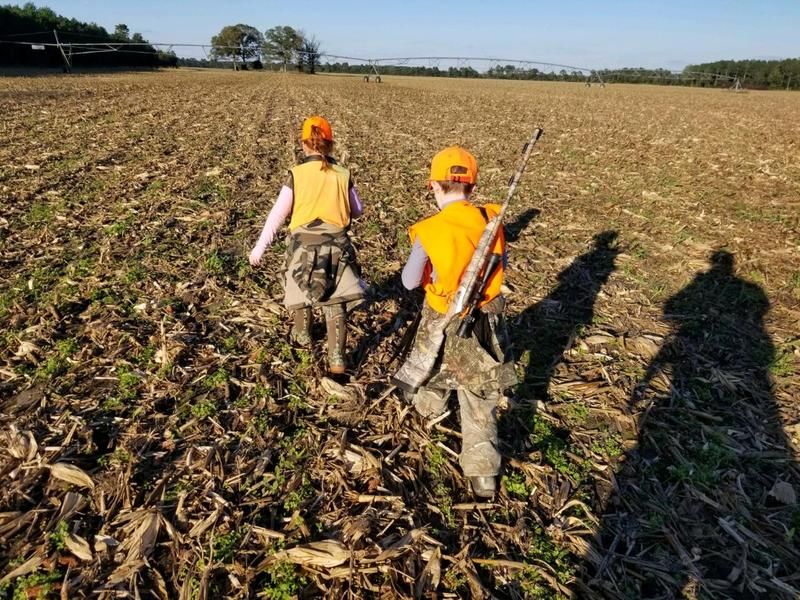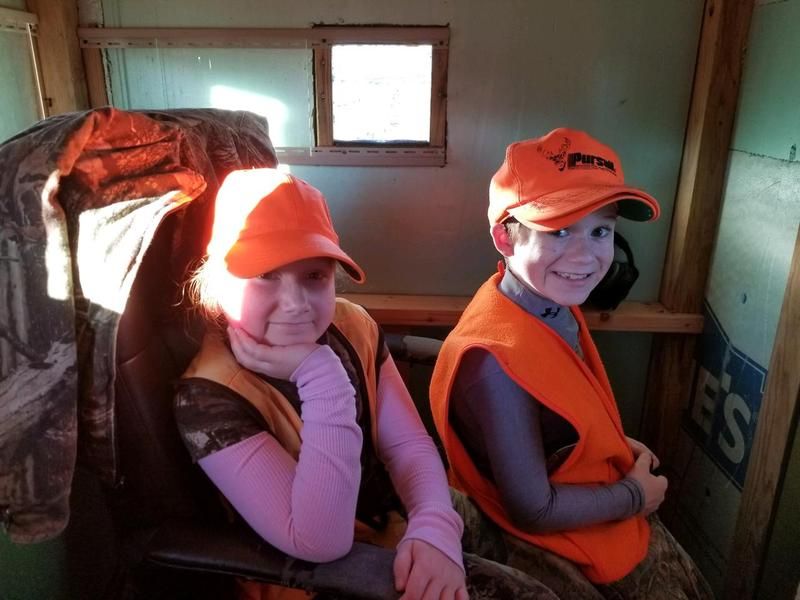 Saturday morning we had prior engagements and couldn't hunt...  The wife tried to talk me out of hunting that night but that wasn't gonna happen. We hurried home to get ready and off we went... We got to the stand by 5pm and waited.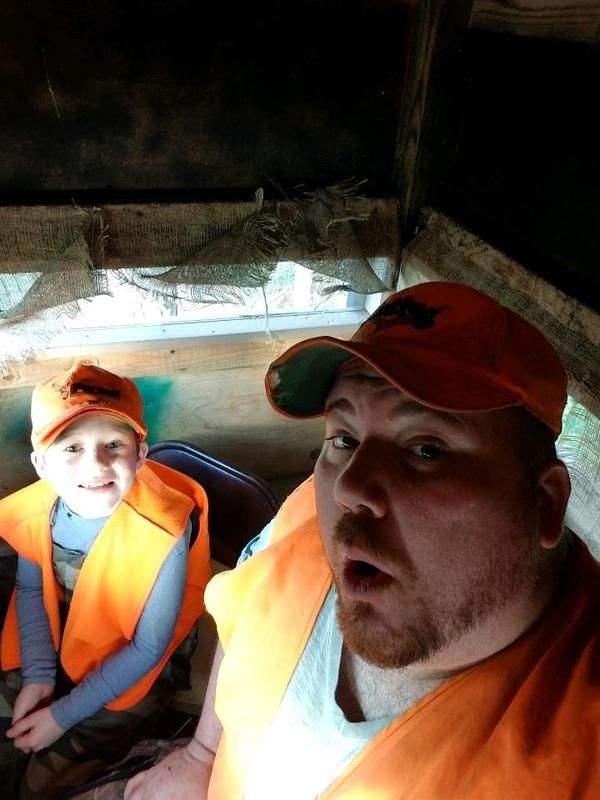 We went to the other side of the woods to get a different change in scenery... I wasn't thinking AI had messed up leaving a spot that I had been seeing so many deer. Especially since it was now close to 7pm and we hadn't seen a deer.  A single rabbit was all we had seen *lol* I looked at my son and explained to him that that's what deer hunting was all about and that maybe daddy had made the wrong decision on stand placement but we had fun anyway. I looked at him and told him to start picking up his things so when it was time to leave he wasn't searching for them in the dark.  I turned to my right and to my surprise there stood a nice buck not 50 yards away from us in the edge of the beans. I told him to get ready to shoot because I knew he was big enough for my 10 year old son either way. I started opening up the sliding window and Anthony was putting the barrel out the window. He bumped into the metal chair in the blind and the deer heard it plain as day. He even took a step back... I told Anthony we don't have much time and that he was gonna leave the field.  After about a 3 minute standoff the guy across the street fired his dirt bike up and that got the bucks attention. Anthony got the gun out the window and I told him to put it right in the middle of his shoulder. I turned the power down a bit and he said he was on him. He then cocked the hammer on his Thompson center triumph and shortly after the smoke flew BOOM..... I never saw the deer run, spin or take off... I couldn't see him anywhere... All of the sudden I saw a hoof sticking up out of the beans... HE GOT HIM!!!!!!! My little man killed a damn nice buck.... I kept and eye on him with my gun and he put his head up trying to get up but only for a second.... But that was just enough for me to see that he had just killed " SHORT BUS "  I am surprised we didn't bring that tower stand crashing to the ground.... We got down and went to him. He was still alive so I quickly dispatched him.  I am so proud of this boy!!!!!!!!  What a way to end the muzzle loader season and start gearing up for the rut and the rest of the season that's ahead!!!!!! He ended up having 9 points.... 6 on his right and 3 on his left. He had a point about 3 inches long running down the back of his neck........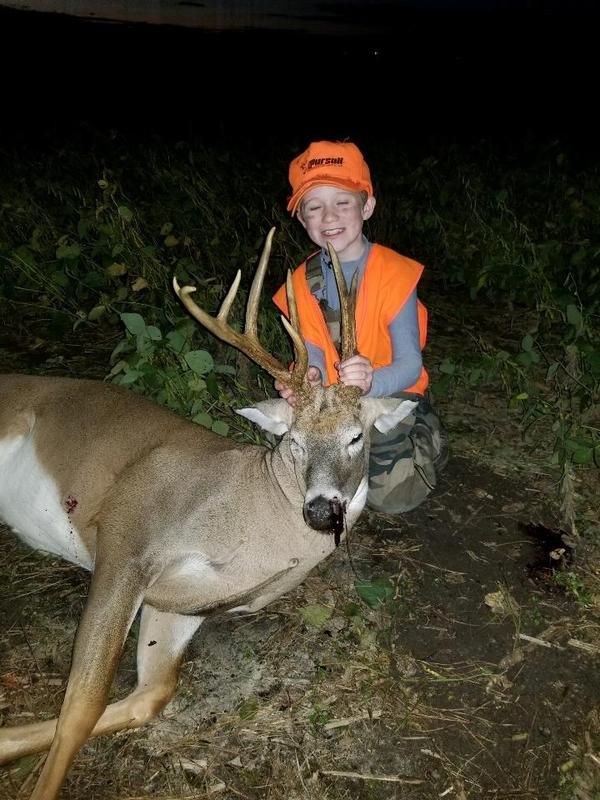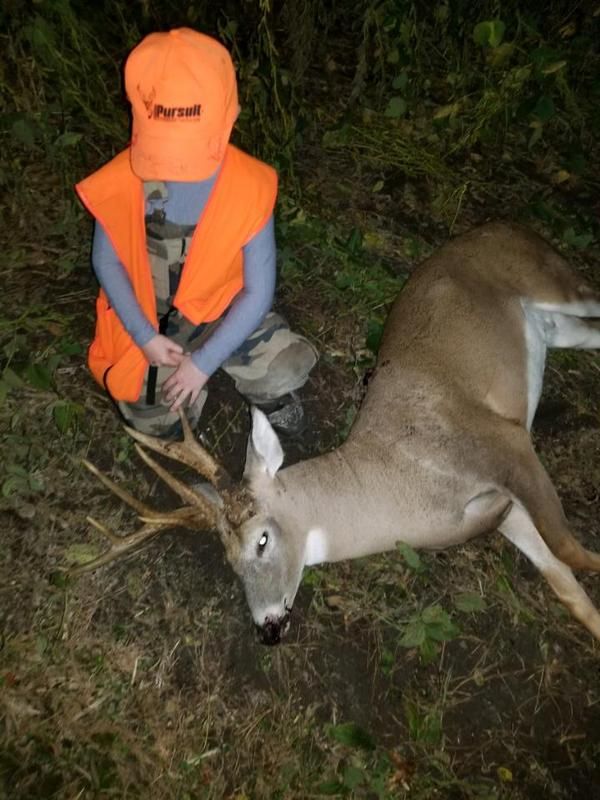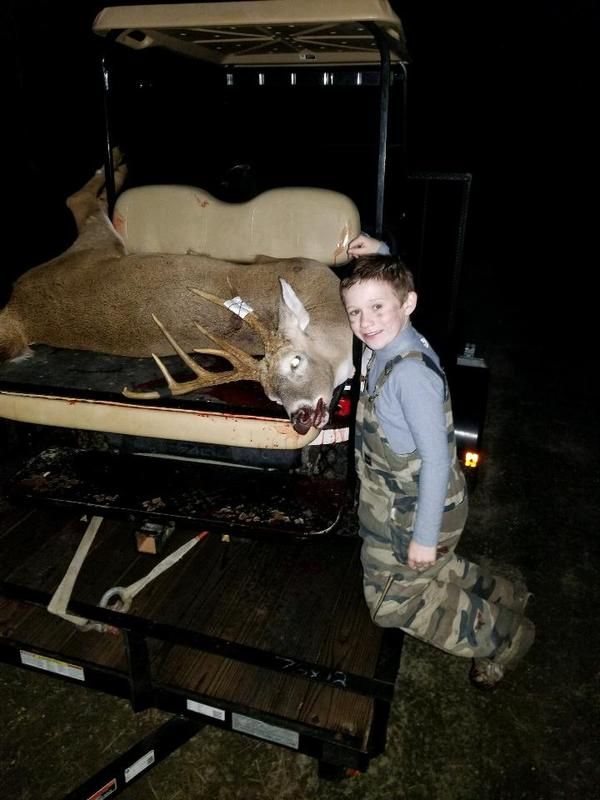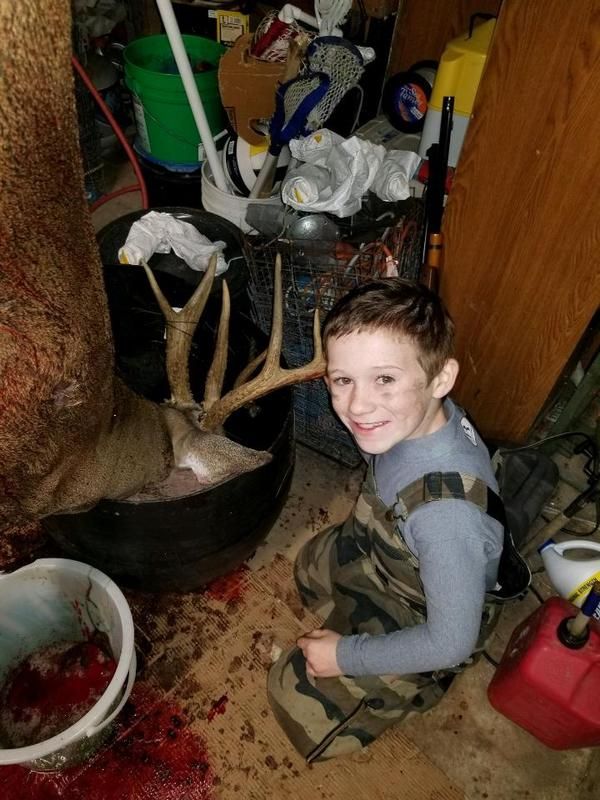 y buck
Posts: 129
Joined: Wed Feb 03, 2016 1:43 am
Location: Lewes delaware
---
Some nice bruisers there ! ...... ( I shudda been a farmer )
6 pointer
Posts: 330
Joined: Wed Nov 19, 2014 8:25 pm
Location: Bucks county Pa.
---
Bam,
Congrats to your son. To you sir I say well done!!!!! Know get your girl her deer


Sent from my iPhone using Tapatalk
earse the flock boys
12 Pointer
Posts: 1360
Joined: Mon Nov 19, 2012 3:45 pm
Location: norwood,pa
---
That's a Very Cool story and Killer rack, Congrats to All
ODV Moderator

2013-2014 season Predator Champs

2017 Pikerel Contest Champs
Droptine
Posts: 4026
Joined: Tue Nov 20, 2012 9:04 am
---
Jeff thanks for sharing all those summer photos with our members . harvesting that great looking buck with the whole family awesome stuff , well done and a very strong write up
Keep the tradition alive. Take a youngster hunting or fishing!
Droptine
Posts: 5207
Joined: Thu Aug 23, 2012 9:38 am
Location: Washington Crossing, pennsylvania
---
Great buck! Congrats to you and your boy!
Droptine
Posts: 3426
Joined: Thu Oct 04, 2012 7:43 pm
Location: Philadelphia
---
Thanks fellas, we are still riding the high... He had me print out a few pics and laminate them so he could show his friends and teacher at school... Words cant explain how that night made me feel...
y buck
Posts: 129
Joined: Wed Feb 03, 2016 1:43 am
Location: Lewes delaware
---
Nice. Did you check out that scar high on the right side? Kinda looks like it been shot before wich would possibly make opposite side antler funky wich it is.
The word harvesting in for vegetables!
I kill things!

#Teamstickbow#Stickbowkilla#
Droptine
Posts: 4966
Joined: Sat Aug 03, 2013 8:08 pm
Location: zimbabwa
---
Great job!! Congrats to you and your boy, Short bus is down
Great story, thanks for sharing, short bus is on the way to the taxi isn't he?
A country boy WILL survive! Country living isn't a way of life..it's the ONLY way to live life!!

Pro Staff Covert Trail Cameras
http://covertscoutingcameras.com/products/cameras/
President Tri-County Longbeards
http://www.christianbowhunters.org/
Droptine
Posts: 6015
Joined: Thu Aug 23, 2012 1:02 pm
Location: Pittsgrove, South Jersey
---
Congrats to you and your boy ,great buck
Droptine
Posts: 5495
Joined: Thu Apr 04, 2013 8:10 pm
---
---
Who is online
Users browsing this forum: No registered users and 0 guests