Well now that its all over till December antlerless and my stuff is getting back together I will tell a story of one of the proudest DAD moments in my life. I had my little hunting buddy perched up in a 2 man ladder on our opener. We were out in the field on a big oak tree looking back at the woods. When shooting time came upon us you could hear the sounds of deer chasing in the woods. Out came a small 4 point. I asked him if he wanted to shoot him and anthony looked at him in the scope and said " No daddy I want a bigger one ". I said ok and we watched him run around like a wild man. About 30 minutes later Anthony was frantically pulling on my sleeve. He said ' Look daddy there is a deer ". I looked down the field and there was a buck walking. I grabbed my grunt call and hit it a few times. The buck stopped, turned to us and came running. When he was broadside at 25 yards I stopped him and thats when the smoke flew from my little buddies muzzleloader. At the shot I couldnt tell if he had hit him or where he went for that matter. I saw a glimpse behind me through some brush and then it was gone. We waited about 15 minutes and got down. As we walked over to where the buck was standing and there was a few big kick ups. I looked over to the last place I saw the deer and there he layed. I grabbed anthony and almost broke his back when I hugged him lol We then went to him and started taking pictures.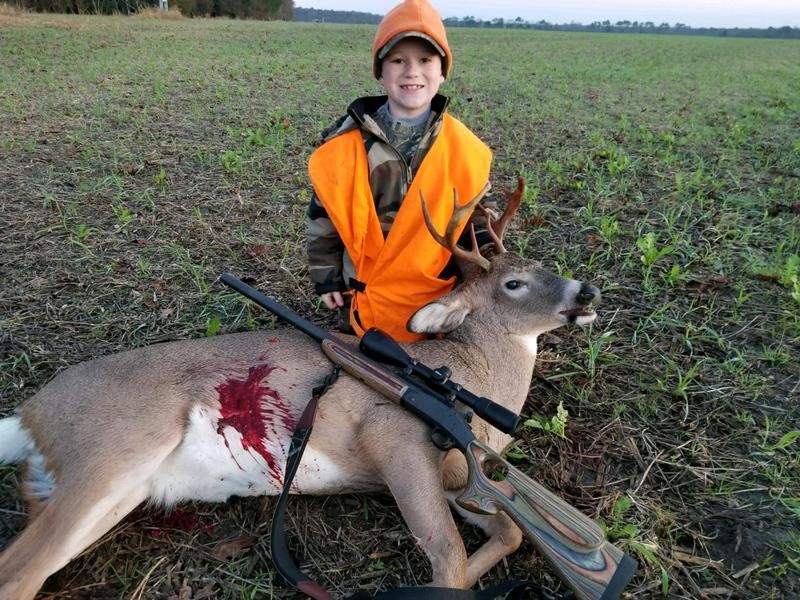 I was crying and just and absolute mess. I was so happy and I couldnt believe how it all unfolded. I looked up and wow there was a good buck coming across the field about 180 yards out. I didnt have much time to look at him but he looked nice. I had my gun laying on his deer and we were in a cut bean field. I dive down on the ground and grabbed my gun. I used his deer as a rest and took a shot when the deer was around 160 yards. He bolted across the field and flipped out about 120 yards away. You talk about a hunt. I didnt know what to do with myself. I will never forget november 10th 2017 for the rest of my life.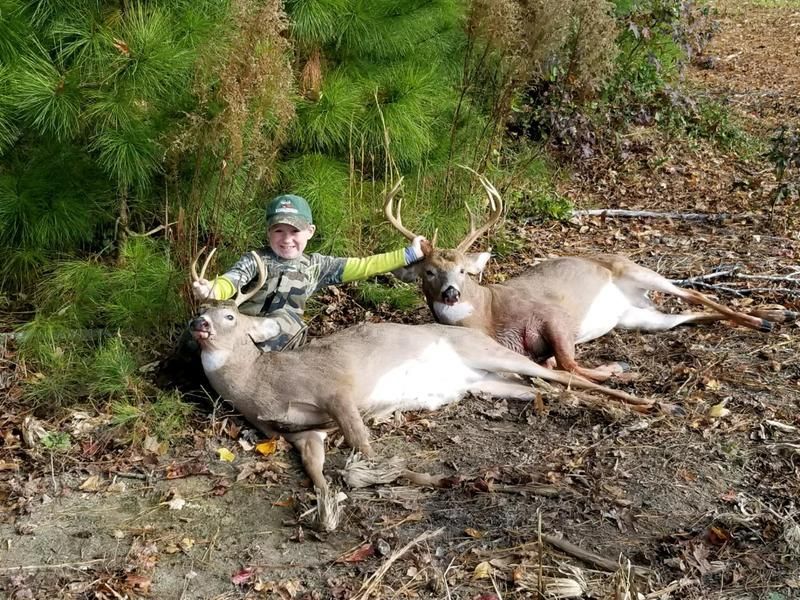 Later on my dad killed a buck to. So all three generations scored on opening day. What a great day!!!!!!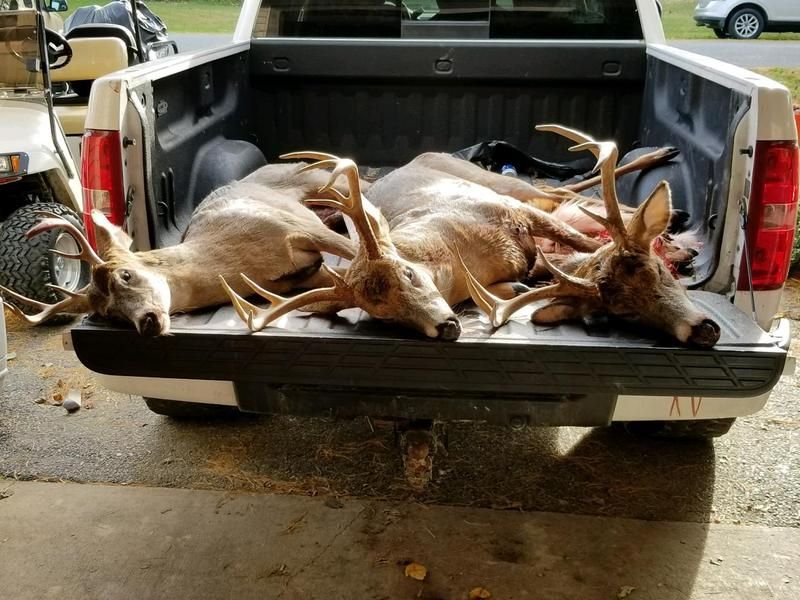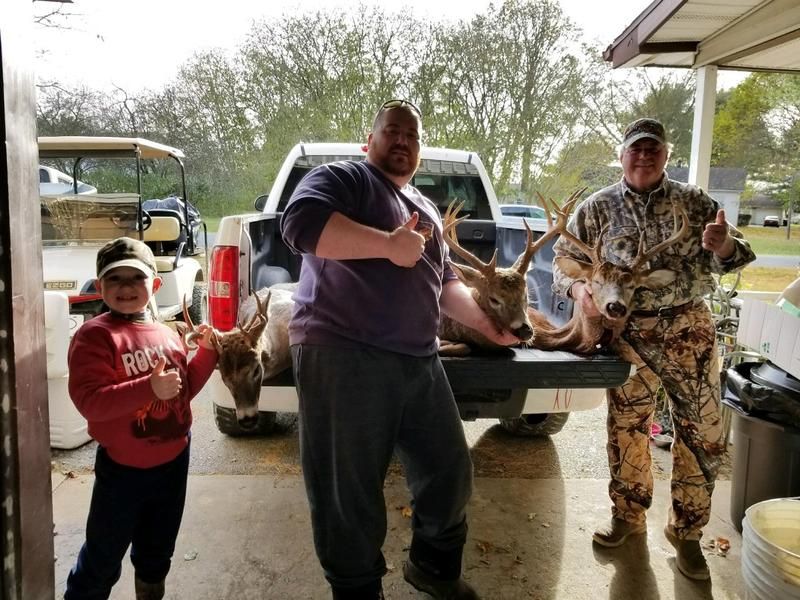 On the last saturday I took out a yearling doe for roasts. I guessed her to be about 80 lbs dressed. I didnt mess up any meat on her and ended up with 6 very nice roasts and 2 pretty backstraps out of her for the freezer.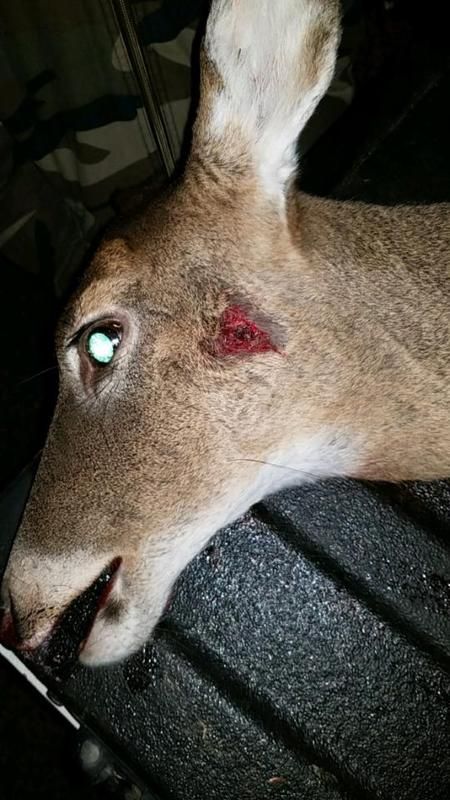 Then on the last day I called my good friend and asked him if they were hunting and he said yes. I invited them to my lease and they gladly accepted. At 5pm what looked like a big doe came out on me and my little buddy. He looked at me and smiled. I knew she was in trouble lol. He took the 75 yard shot and it was over. Down in a pile. It turned out to be a broken off spike that we could use a doe tag on.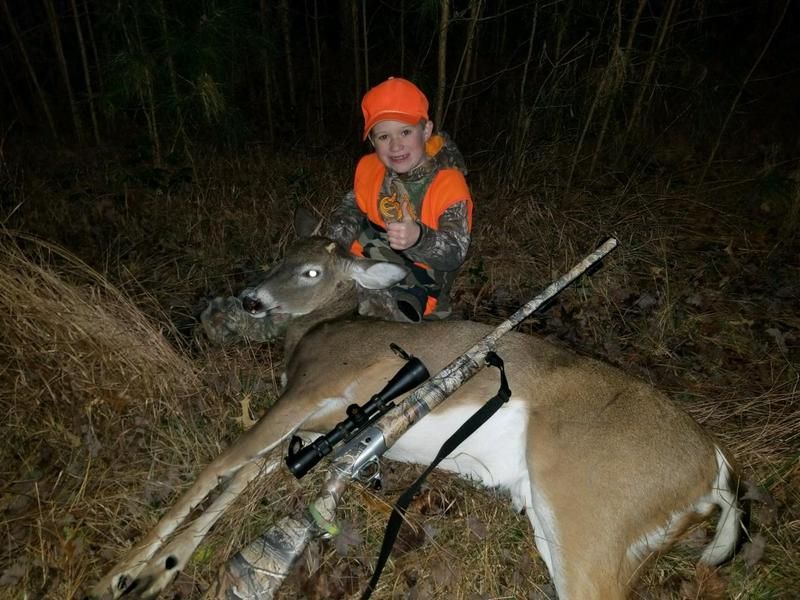 Shortly after we heard a shot and we hoped paige was on the board. Then 10 minutes after that we heard 2 more shots and I was pretty sure the last one connected do to the slap after the boom.. This time I got a text that said we will see. After taking care of anthonys spike we went around to check on them. We found blood and a short tracking job later there was paiges first buck. What a week!!!!!!!!!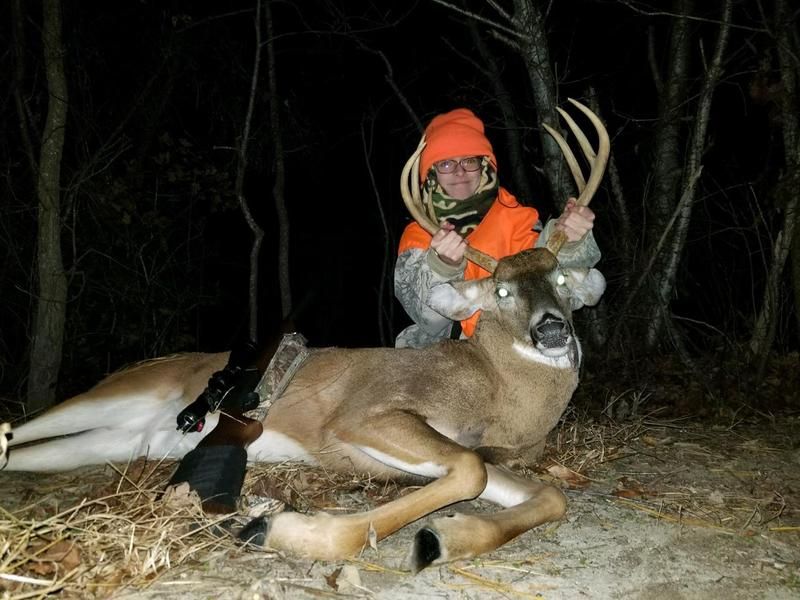 y buck
Posts: 129
Joined: Wed Feb 03, 2016 1:43 am
Location: Lewes delaware
---
BK,
That story brought tears to my eyes just reading it!!!!! That's what its all about!! Tell your son and pops congrats from me and my son!! God bless and safe hunting!!
Jay.
8 Pointer
Posts: 645
Joined: Fri Mar 18, 2016 2:55 pm
Location: Port Norris, NJ
---
Congrats !
NJ Fur Harvesters
SCI
6 pointer
Posts: 394
Joined: Sun Jan 26, 2014 4:06 pm
Location: Briar Hole
---
Jeff thanks so much for taking us on your awesome hunting trip all week long . crazy sharp photos well done men
Keep the tradition alive. Take a youngster hunting or fishing!
Droptine
Posts: 5207
Joined: Thu Aug 23, 2012 9:38 am
Location: Washington Crossing, pennsylvania
---
Congratulations on memories that will last a lifetime ...you guys ( and gal)
really laid the hammer on them deer !! Great story and great pics ..
y buck
Posts: 268
Joined: Sat Dec 07, 2013 9:40 am
Location: Atlantic County
---
WOW buddy!!! That is awesome, what a great memory!! Congrats to you, Anythony, dad and Paige!!!
A country boy WILL survive! Country living isn't a way of life..it's the ONLY way to live life!!

Pro Staff Covert Trail Cameras
http://covertscoutingcameras.com/products/cameras/
President Tri-County Longbeards
http://www.christianbowhunters.org/
Droptine
Posts: 6015
Joined: Thu Aug 23, 2012 1:02 pm
Location: Pittsgrove, South Jersey
---
That's cool. Congrats.
My biggest fear is that when I die my wife will sell my guns and fishing rods for what I told her I paid for them.
6 pointer
Posts: 540
Joined: Fri Apr 04, 2014 8:05 am
Location: Somers Point, NJ
---
Congrats to all of you. Your right that was one hell of a week. That will be priceless memories.
12 Pointer
Posts: 1579
Joined: Sun Nov 18, 2012 6:35 pm
Location: Philadelphia
---
Good stuff! Congrats to all!

PS. You have some nice bucks in Delaware!
Droptine
Posts: 3424
Joined: Thu Oct 04, 2012 7:43 pm
Location: Philadelphia
---
thanks fellas.... its been a great season. I hope to share some more hunts soon.
y buck
Posts: 129
Joined: Wed Feb 03, 2016 1:43 am
Location: Lewes delaware
---
---
Return to Local Harvests & Reports
Who is online
Users browsing this forum: No registered users and 0 guests