Well I picked up a few of these bushnell 6.0 megapixel cameras for cheap to put out in some spots I have that get a few trespassers. I didn't want to have a lot in them incase they got stolen. Wow, I must say I am impressed with the picture quality... The night time pics were great as well but I erased them since I had nothing worth keeping. What do you guys think? The camera even came with a screw in mount.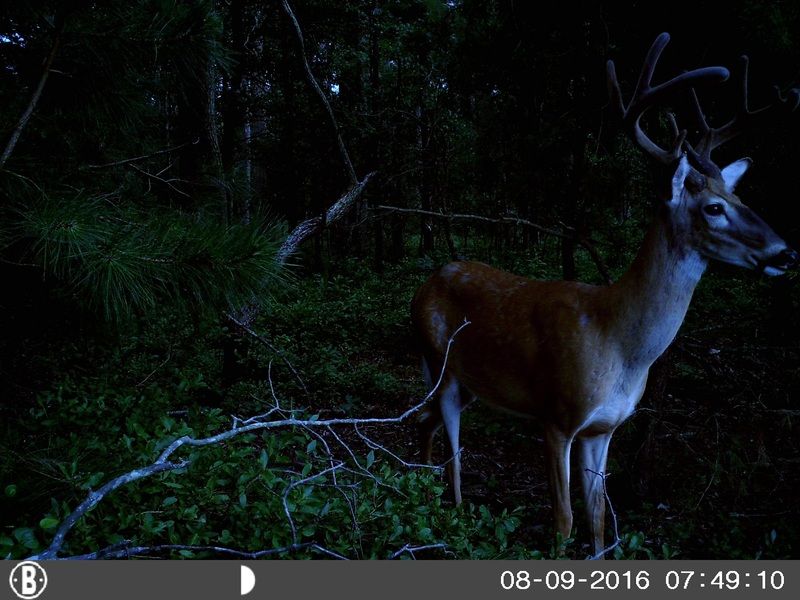 y buck
Posts: 123
Joined: Wed Feb 03, 2016 1:43 am
Location: Lewes delaware
---
Looks good.
The word harvesting in for vegetables!
I kill things!

#Teamstickbow#Stickbowkilla#
Droptine
Posts: 4942
Joined: Sat Aug 03, 2013 8:08 pm
Location: zimbabwa
---
8 Pointer
Posts: 645
Joined: Fri Mar 18, 2016 2:55 pm
Location: Port Norris, NJ
---
I usually use covert's but I bowhunt some state land that gets a lot of pressure and I wont put my covert cameras out there. So I figured I would try these and see how they worked since they will hurt my feelings a lot less than losing a $200 camera. I was just pleased with the picture clarity for $69
y buck
Posts: 123
Joined: Wed Feb 03, 2016 1:43 am
Location: Lewes delaware
---
nice high rack on that rascal , he should look very sharp in 3 weeks when he rubs out of velvet Jeff . thanks for your post
Keep the tradition alive. Take a youngster hunting or fishing!
Droptine
Posts: 5181
Joined: Thu Aug 23, 2012 9:38 am
Location: Washington Crossing, pennsylvania
---
sweet...yeah I am still running Bushnell's from 5 plus years ago they can only take up to a 2gb card haha nut they still work great.
Droptine
Posts: 3257
Joined: Thu Sep 13, 2012 5:31 pm
Location: Central NJ
---
They look nice. I'll have to pick some up at that price
Bowtech Insanity CPXL

Check out my blog - M-ASportsman.blogspot.com
Follow me on Twitter - twitter.com/DT_MASportsman
6 pointer
Posts: 531
Joined: Thu Jul 18, 2013 9:38 am
Location: Newark, DE
---
Still have yet to get a picture of a shooter. I have seen a few on the field so its only a matter of time to when I dial in on them. Its a new farm and I am still learning it. This was from the first trail camera sets I put out. Put out 2 more cameras on that farm this past week.... Its almost killing time!!!!!!!!!!!!
y buck
Posts: 123
Joined: Wed Feb 03, 2016 1:43 am
Location: Lewes delaware
---
Very Nice, i'm going to look them up. How are the late night pics ?
ODV Moderator

2013-2014 season Predator Champs

2017 Pikerel Contest Champs
Droptine
Posts: 4004
Joined: Tue Nov 20, 2012 9:04 am
---
I have a Bushnell and have it for a few good years and it works great.
12 Pointer
Posts: 1553
Joined: Sun Nov 18, 2012 6:35 pm
Location: Philadelphia
---
---
Who is online
Users browsing this forum: No registered users and 3 guests