Im looking for a good place to hunt for mountain goat and 50 plus inch moose . That aren't crazy in price. Was at the hunting show this week and didnt really talk to anyone i like. So if any of u guys no any good outfitters let me no. I been putting in for zone 2 in maine for 7 years now still no luck:{ and my Alberta moose was only 35"inch not a wall hanging
6 pointer
Posts: 330
Joined: Tue Jan 13, 2015 9:35 pm
Location: south jersey
---
Hey
Alberta does hold some good bulls but I'd be very picky on an outfitted hunt. Most outfitters will get you a bull but trophy quality is hit and miss. There are a few outfits that run some moose tags in the mountain zones that do have a really good batting average. Most farmland zones don't allow bulls to achieve maturity. Northern BC would be my bet but I think the price will be quite a bit more than Alberta. What size of moose would you want as a wall hanger? 40" with some nice palms and fronts?
Here's a high 30" bull. A pretty average farmland meat bull my wife killed. The mountain zones do hold some 50"+ Canadian moose.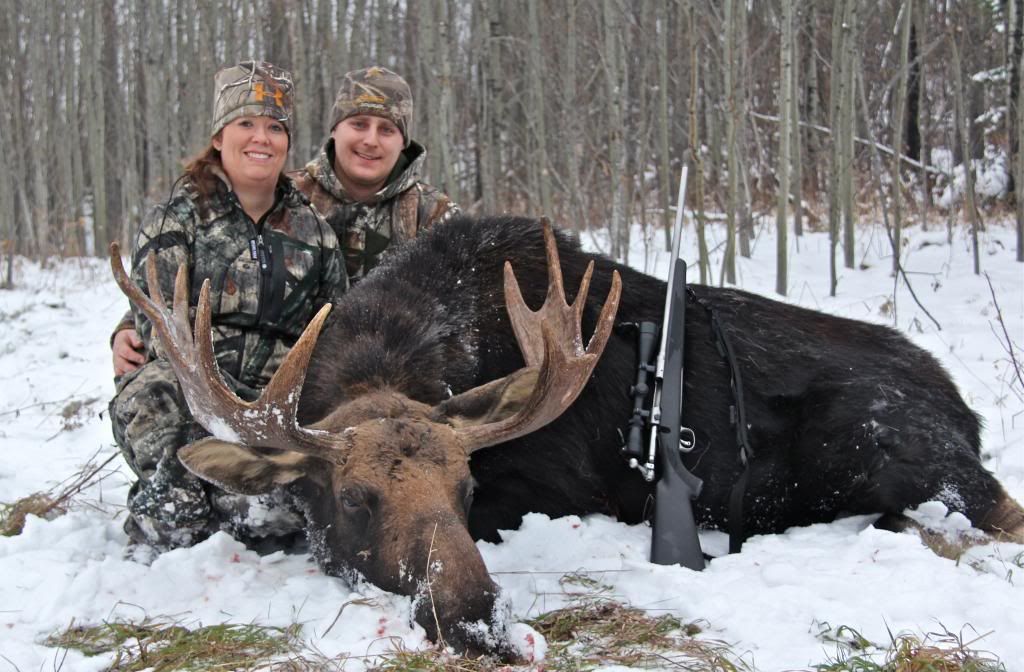 Button Buck
Posts: 38
Joined: Wed Jun 03, 2015 10:17 pm
---
Yeah im looking for 45" plus with palms . I put in for a million permits this season didnt get any.
6 pointer
Posts: 330
Joined: Tue Jan 13, 2015 9:35 pm
Location: south jersey
---
Check out these guys. I dont know them but they have a Great area that has a long wait time for residents. Not sure on price.
http://mountainmanadventures.com
Depending on budget you could do a goat and moose hunt combo in northern bc.
Button Buck
Posts: 38
Joined: Wed Jun 03, 2015 10:17 pm
---
i email them for price. alot of the bc places want alaska prices for moose.
6 pointer
Posts: 330
Joined: Tue Jan 13, 2015 9:35 pm
Location: south jersey
---
---
Who is online
Users browsing this forum: No registered users and 1 guest